Media
Procademia in "Chennaionline"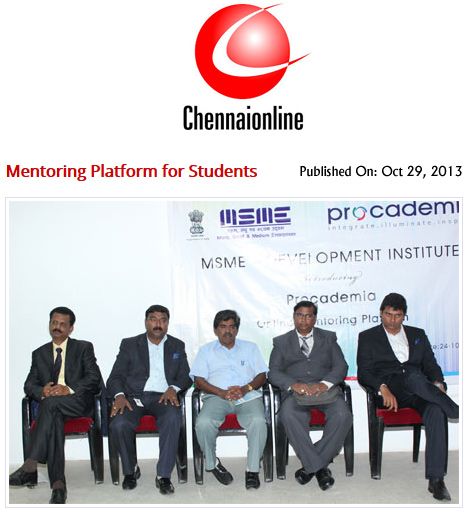 MSME Development Institute, Guindy, Chennai takes this opportunity to introduce an online mentoring platform www.procademia.com for guiding the college students/ freshers and Procademia acts as a link between students, academia and industry professionals to bridge the gap prevailing in student's employability and Industry needs.
Mr.Sivagnanam, Additional Industrial Advisor, MSME – Development Institute said that, there is always criticism about the students particularly who have come out from the Engineering Colleges that they do not possess employable skills required by the industry. The Industry owners find it difficult to choose the right students with right skills from the colleges/university campuses. There is an urgent need to step in and fill this gap. Government and Industry are making initiatives to bridge this gap. To support this initiative, A group of Small Entrepreneurs under the umbrella of Quadruple Group who had similar thoughts based on their own experience had extensive discussions with MSME DI and have come out with a portal by name www.Procademia.com. This online platform , first of its kind in India connects the students to a professional who would interact, educate, counsel and aid in the skill development of the student during the graduation period and help the student to prepare adequately to become readily employable.
"It is a platform to connect student/fresher communities with industry-professionals with an objective to create more employment opportunities wherein students will be able to get mentored from the professionals from the Industry. Industry professionals involve themselves on the Procademia-mentoring platform to share their knowledge/expertise to student/fresher community to empower the next generation workforce" said Mr. T Mohan Thilak, Co-founder and Director of Quadruple Group.
He added, "It is India's 1st Education Industry including students/freshers, academia and Industry Professionals are connected under a single platform. online mentoring platform where all the key stake holders of the Education Industry including students/freshers, academia and Industry Professionals are connected under a single platform.
This platform enables to connect industry professionals with academia by various methods of academic interaction (e.g. guest lectures, seminars, workshops, training programs, visiting faculties etc). This is referred as "EduMeet" with an objective to bring academia and industry together for national development".
MSME Institute, which has been engaged in various such activities has welcomed Procademia.com.
About Quadruple – www.quadruplegroup.com
Quadruple Group– incepted by a team of qualified professionals with comprehensiveexperience in the area of Human Capital solutions, Software Development, Training and Manufacturing IT Automation Services. Their enriched expertise has enabled them to evolve to become an ITservices company to cater to the needs of all their clients. Their network and delivery competencies have enabled clients to experience the bestservices.They eventually expect all their Clients, Associates, Partners andEmployees to truly benefit and reap four fold benefits working with them and thus"Quadruple".
Source : Chennai Online